Holmes Beach Offshore Fishing Charter
Making a trip to Holmes Beach this year? Looking for an adventure? Look no further than Seafood Charters, a Holmes Beach Fishing Charter with over 10 years of voyages in the Florida waters.
Captain Keith McGlade has been leading fishing charters in the Gulf since 2010. He is a U.S. Coast Guard-licensed mariner, an avid SCUBA diver, and a commercial fisher during some times of year. Captain Keith loves fishing his native Florida waters and helping families and vacationers experience the thrill of offshore fishing, or the peacefulness of inshore fishing on a calm, sunny day.
Seafood Charters offers offshore and inshore fishing for groups of up to six people. By booking with us, your group will gain the advantage of Captain Keith's extensive knowledge of the underwater topography of local waters. Captain Keith has spent many hours SCUBA diving the area, which provides an edge when searching for fish. In addition, Seafood Charters' Carolina Skiff is equipped with state-of-the-art GPS and fish-finding technology.
Fishing charters are the perfect activity for all ages. When you're out on the water, you will learn and experience many new things. You'll also get to enjoy a fresh-caught meal after a long day fishing. Groups with young children do not need to worry since you can choose how long you're out on the water, and what fish you'd like to try for. Safety is assured by the federal government which granted Seafood Charters our official permits. Gear will be provided.
We offer trips of varying lengths for up to 6 guests, and set sail in the beautiful morning hours. If you'd like to close your voyage with the sunset over the water, you should book a double. Our trips are offered in 4, 6 and 8-hour increments.
Seafood Charters provides fishing trips for beginners as well as veteran fishers. If this is your first time on a charter boat, we'll teach you how to use your gear and cast a line. More seasoned fishers are free to spend their time going after a certain fish without interruption. Seafood Charters offers the perfect excursion for beginners and seasoned fishers alike! Families, friends, and co-workers can enjoy a day at sea learning more about the Florida coast and Gulf of Mexico.
Explore Holmes Beach, Florida
Holmes Beach was once inhabited by Native American tribes consisting of warriors, farmers, and not surprisingly – fishermen. Several years later in 1539, Hernando de Soto landed on the island and pushed out much of the Native American population. Early settlers Sam and Annie Cobb had to cut through jungle-like brush and face rattlesnakes and wildcats as they built a community in Holmes Beach.
The Cobbs arrived in 1896 and built a homestead in Central Anna Maria Island, where the modern Holmes Beach is located today. Other families joined the Cobbs. The family was known for creating a post office out of their home in 1902. At the time, Sam was the only government representative on Anna Maria Island. Even though the Cobb family settled the island, it is named after Jack Holmes. Holmes was a developer that came to the island after World War II. He continued building the community the Cobbs had started, and is credited for the expansion of the island community.
Today on Holmes Beach, you can enjoy what the early settlers imagined. Charming Old Florida shopping, historic homes, and relaxing beaches make Holmes Beach the perfect summer retreat for your family.
Holmes Beach is just a short drive from St. Armand's Circle in Sarasota, an outdoor community center with local businesses and famous restaurants. You can also take a trip to the nearby cities of St. Petersburg, Tampa, and Bradenton. After sitting on the pristine, white sand beaches of Holmes Beach, spend a day on the water with Seafood Charters.
Offshore Fishing vs. Inshore Fishing

Offshore Charter
Seafood Charters has gained all the federal permits needed for deep sea fishing in the Gulf of Mexico. Offshore charters will travel 9 miles off from the shore to reefs, offshore ledges, wrecks, and other fishing spots that Captain Keith has personally vetted. Captain Keith has spent many hours SCUBA diving the fishing locations you will encounter in an offshore charter trip. His knowledge of the underwater topography will give your group an advantage when fishing these locations. Grouper, snapper, hogfish, kingfish, cobia, and Spanish mackerel are just some of the species you might encounter on an offshore charter. Be prepared to weather the waves and wind as you catch bigger fish.​
​These fishing charter trips travel past the 9-mile mark, where international waters begin. This is why a special permit is necessary. These trips travel into colder and saltier waters, and typically last longer than inshore charters. Offshore charters are a great choice for people in search of adventure and the thrill of deep sea fishing!
Read more about the species of fish you might catch offshore here.

Inshore Charter
Inshore fishing charters stay close to the shore. Within 3 miles, to be exact. These trips are great for families with young children as the waters are usually calmer and warmer. These trips require fewer gear and less travel time than offshore charters. If you want a more relaxing ride and wish to take a swim closer to land, then an inshore charter is a good option for you. The Tampa Bay area offers unbelievable back-water fishing, featuring miles of untouched mangrove shorelines. The mangroves are the favorite spot of snook, redfish, trout, flounder, and numerous other species.
​Our Inshore Fishing Charters travel within the system of islands, fishing in the mangroves rather than the open waters. Inshore charters will give your group a different perspective of the beaches and islands you've been relaxing on. If you want a fishing trip that's a more peaceful than adventurous, book an inshore fishing charter as part of your Holmes Beach vacation!
Read more about the species of fish you might catch inshore here.
MEET Captain Keith
Captain Keith McGlade is a Florida native who spent his childhood years fishing on the Gulf. A charter captain with Seafood Charters, Captain Keith is also a U.S. Coast Guard licensed mariner. During stone crab and mullet season, Captain Keith will harvest these on a commercial fishing boat. On his free time, Captain Keith is an avid SCUBA and free diver. His personality is easy-going and down-to-earth, and he loves his work. A family man, Captain Keith especially enjoys introducing the world of Gulf fishing to families with children.
Want some stone crab to go along with your fish meal? Captain Keith drops hundreds of stone crab traps out in the Gulf from October through May. Although he uses an electric trap puller when harvesting crab, he would be glad to 'horse in' a few traps by hand on your charter upon request. Follow Captain Keith on Facebook for real time updates and new trip pictures!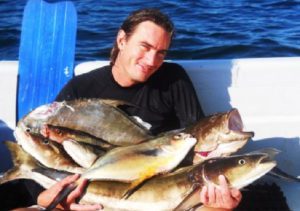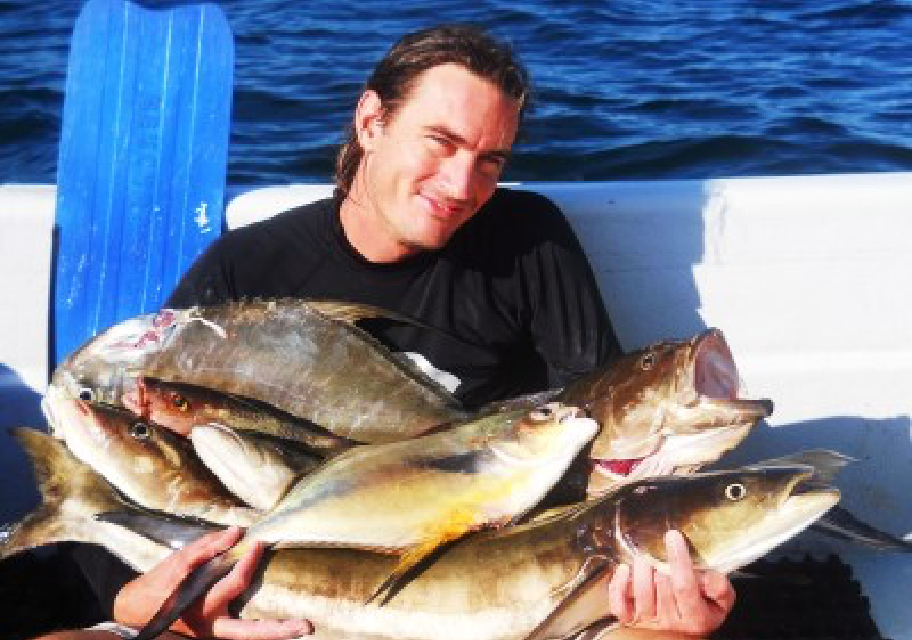 What to Expect on Our Fishing Charter
What can you expect on Seafood Charters? We guarantee a professional, safe, and fun experience for vacationers and families. We supply fishing gear and fishing licenses for those traveling on our charter, as well as the live bait needed to have a successful day fishing. A day on the water can be tiring, so we provide cold bottled water to keep your group hydrated and energized.
To make your day on the water even more enjoyable, we recommend bringing along a few extras. These include sunscreen, long-sleeved shirts, and polarized sunglasses to protect you from the sun. Groups with young children or who book longer charters should bring extra beverages and some snacks. Finally, a camera is always a good idea to document your experiences. If you wish to snorkel or swim during your charter, bring some towels. Those hoping to bring home a fresh-off-the-Gulf meal should load an empty cooler into their car. Captain Keith will filet your fish at the end of the day, and give you ice for the cooler so that you can bring your spoils home.
Our fishing charters meet at the south tip of the island or near Holmes Beach where SR 64 Manatee Avenue meets the island.