Sarasota Offshore Fishing Charter
During your time in Sarasota, spend a day on a deep-sea offshore fishing charter with captain Keith McGlade and make a memory that will last a lifetime. Captain Keith is a Coast Guard-licensed mariner who loves creating the perfect fishing trip for families and visitors of Sarasota. He has led offshore charters since 2010 and knows Florida's gulf waters like his own backyard. Combined with the help of advanced GPS and fish-finding technology you're bound to get some great catches and have a great time. Seafood Charters offers offshore charters (as well as inshore charters) for groups as large as six and will provide everything you need for a successful outing including fishing gear, bait, and safety gear.
A fishing charter is a great way to have an adventure while on vacation. On top of the experience and memories created, you'll also get a great meal! ​If you know your taste in fish, let Captain Keith know what you want to fish for. If you don't know your taste, read more on the fish you might catch or let Captain Keith help you decide what to target. Charters are 4, 6, or 8 hours long and start in the morning hours.
Seafood Charters provides fishing trips for both new and experienced fishers. If it is your first time on a charter boat, you'll learn about all the required gear and how to cast a fishing line. More seasoned fishers can spend their time targeting certain fish, maybe even prized sport fishing species. No matter what your groups' experience level, a fishing charter with Seafood Charters is always an adventure. Families, friends, and co-workers can enjoy a day out on the water seeing the beautiful Florida coast.
The Beautiful Sarasota & Lido Key
Sitting sixty miles south of Tampa, Sarasota is known for its beaches and cultural amenities. Several barrier islands lie adjacent to the city including, Lido Key, Longboat Key, and Siesta Key. The city is known for being the former winter headquarters of the Ringling Brothers Circus. You can find many things named after the Ringlings including Florida's state art museum, the John and Mable Ringling Museum of Art. Other highlights include the Sarasota Chalk Festival and Marie Selby Botanical Gardens, known for a great light show during Christmas time.
Offshore Fishing vs. Inshore Fishing

Offshore Charter
Unlike most of the smaller boats in our area, Seafood Charters has the Gulf of Mexico federal permits for charter fishing beyond 9 miles. Captain Keith has spent years SCUBA diving every offshore ledge, wreck, or reef that we will be fishing. His knowledge of the underwater topography gives him an edge when dropping lines. Grouper, snapper, hogfish, kingfish, cobia, and Spanish mackerel are common target species. Be prepared to weather the waves and wind as well as handle bigger fish.​
​These fishing charter trips travel beyond 9 miles, and need a special permit. The 9 mile mark is where international waters begin, and why a special permit is necessary. On these trips, you may see grouper, snapper, hogfish, kingfish, cobia, Spanish mackerel, and amberjack. These trips travel into colder and saltier waters.

Inshore Charter
Inshore fishing is classified when fishing closer to the shore and in shallower water. These waters are usually calmer and within sight of land. Inshore fishing also requires less gear and less travel time. That makes these charters great for families with younger kids or those that want a more relaxing ride and to stay close to land. Tampa Bay offers amazing back-water fishing, featuring miles of untouched mangrove shorelines, which provide a thriving habitat for snook, redfish, trout, flounder, and numerous other species.
​Our Inshore Fishing Charters travel within the system of islands, fishing in the mangroves, protected by land, not in open waters. Inshore Charters are within 3 miles of land and offshore is anything beyond that. Inshore Fishing charters can feature fish like snooks, redfish, trout, flounder, and many more. These trips feature warm water, but not a lot of reefs.
Introducing Captain Keith
Captain Keith McGlade is a US Coast Guard-licensed mariner. He is an easy going, down to earth guy who loves his work. A 'nature boy' from his youth, he grew up on the Gulf coast of Florida, catching and eating every edible creature from the ocean. Not only a charter captain, he is also a commercial fisherman who harvests stone crab and mullet in season. In addition, he is an avid SCUBA/free diver.
Want some stone crab to go along with your fish? From October to May, Captain Keith has hundreds of stone crab traps out in the gulf. Although he likely won't have his electric trap puller on the boat during your charter, upon request, he would be happy to 'horse in' a few traps by hand.​ Captain Keith is a family man, and especially enjoys taking out families with children. Follow Captain Keith on Facebook for real time updates and new trip pictures!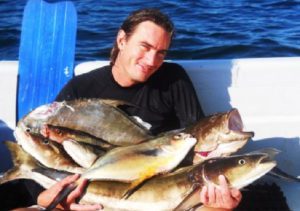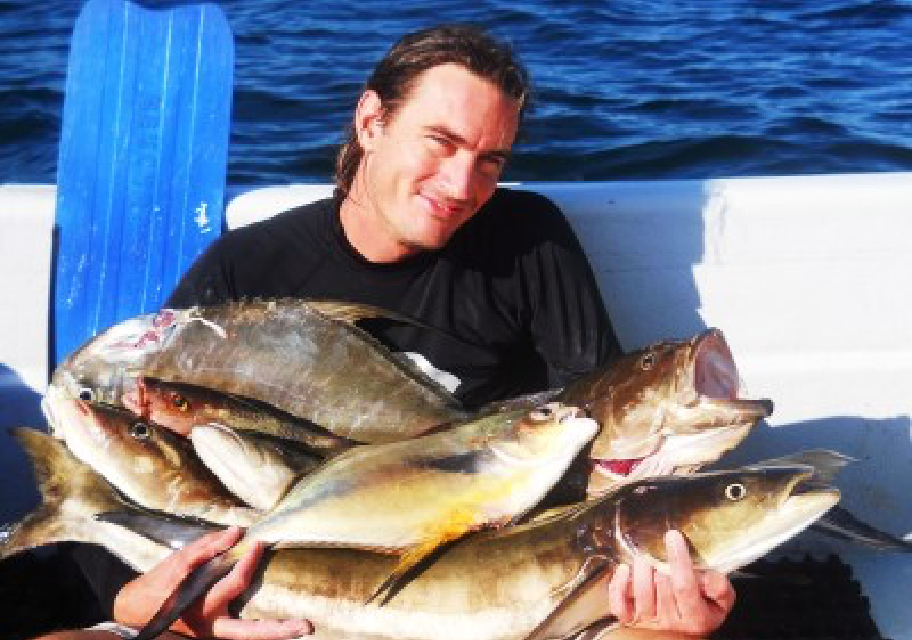 What to Expect on Our Fishing Charter
Seafood Charters provides fishing licenses, fishing gear, and live bait. In addition, we provide bottled water, though you can bring your own drinks on board.
In order to make the experience even more enjoyable, we recommend that you bring a few items. To protect from the sun bring sunscreen, hats and long-sleeved shirts. We also suggest that you bring sunglasses, polarized if you have them. You may also want to bring beverages and snacks. If you plan on going snorkeling, a towel to dry off is useful. Those who are looking to fish may want to bring an empty cooler to leave in your car. Captain Keith will filet your fish at the end of the day, and provide ice for the trip home.
Our fishing charters meet at the south tip of the island or near Holmes Beach where SR 64 Manatee Avenue meets Anna Maria Island.