Bradenton Offshore Fishing Charter
Searching for a good time in Bradenton? Let's go fishing. Bradenton native Captain Keith McGlade has been leading fishing charters in Florida's gulf since 2010. A US Coast Guard-licensed mariner, Captain Keith would be delighted to take your family, friends, or co-workers on a memorable fishing trip.
Seafood Charters offers both offshore fishing and inshore fishing for groups of up to six people. Captain Keith's knowledge of local underwater topography guarantees that a top fishing spot will be chosen for your group. To top it off, the Captain's Carolina Skiff is equipped with the latest GPS and fish-finding technology.
​
Fishing Charters provide the perfect day-long excursion for vacationers and locals alike. In addition to taking home a fresh-caught meal or two, fishing charters provide an excellent educational opportunity. Your group will learn through experience about the local waterways and ecosystem.
Have young children, or busy days ahead? No worries – you choose how long you are out on the water and which types of fish you want to catch.
Seafood Charters offers varying lengths of trips for up to 6 guests. All voyages set sail in the scenic early morning hours. If you're up for an all-day experience and wish to experience the beauty of a Florida sunset on the water, book a double. Voyages are offered in 4, 6 and 8-hour increments.
Safety is ensured by the state of Florida who has issued Seafood Charters necessary permits and licenses for fishing charters. We provide the safety and fishing gear, so all you need to do is show up!
Relying on beginner's luck? That's alright – we welcome beginners and seasoned fishers alike. If this is your first time on a charter boat, we will familiarize you with the gear and how to cast a line. More seasoned fishers are free to pursue their own course with little intervention from us.
If your group includes beginners and veterans, fishing with Seafood Charters will ensure a great experience for everyone. What are you waiting for? Treat your family, friends, or co-workers to a day of adventure in the gulf.
Bradenton: A Historic Paradise
A popular tropical retreat and a city of roughly 60,000 locals, Bradenton was named for Dr. Joseph Braden of Virginia. During the 19th-century Seminole Wars, Braden's fortress-like home was a refuge for early settlers of this coastal town.
Today, thousands of vacationers flock to Bradenton every year to enjoy the locale's natural beauty. The city is just minutes from nearby vacation destinations like Palmetto, Anna Maria Island and Longboat Key. Floridians flock from St. Petersburg, Tampa, and Sarasota to experience Bradenton's culturally rich downtown, which provides the backdrop for the annual Bradenton Blues Festival and the ArtSlam public art festival.
Bradenton is home to 365 acres of untouched Floridian landscape at Emerson Point Preserve. This is the place to see local wildlife including seabirds, turtles, and more. Take a walk or hike on the preserve's boardwalks and trails to experience Florida's land ecosystem, then join Seafood Charters for an excursion at sea.
Offshore Fishing vs. Inshore Fishing

Offshore Charter
Seafood Charters has obtained the Gulf of Mexico federal permits for deep sea fishing. Captain Keith's extensive knowledge of the underwater landscape comes from years of SCUBA diving near every offshore ledge and reef in the area. He will provide your group a unique advantage by bringing you to the best offshore locations for fishing. On offshore trips, expect an adventure. Your group should be prepared to handle bigger fish and weather the waves and wind.
Offshore charters will travel into international waters, which begin 9 miles off shore. These waters are home to a slew of fish including grouper, snapper, hogfish, kingfish, cobia, and Spanish mackerel.
Read more about the species of fish you might catch offshore here.

Inshore Charter
Inshore fishing refers to fishing in shallower water near the shore. These charters stay within sight of land. A great option for families, inshore fishing requires fewer gear and less travel time. Tampa Bay offers world class back-water fishing, featuring miles of natural mangrove shorelines. The mangrove trees are a preferred home of snook, redfish, trout, flounder, and numerous other species.
Our Inshore Fishing Charters travel within the system of islands, protected by land. We stay within 3 miles of land rather than moving into open waters. These trips feature warm water which is ideal for taking a swim. Just remember to bring towels!
Read more about the species of fish you might catch inshore here.
MEET Captain Keith
Captain Keith McGlade is Gulf coast native. Growing up in coastal Florida, he spent his childhood fishing the bountiful waters and gaining the second-nature expertise he shares with fishing charter groups.
Captain Keith is a U.S. Coast Guard-licensed mariner, and a commercial fisherman of stone crab and mullet during season. He also enjoys SCUBA and free diving. Captain Keith is down-to-earth, loves his work, and loves to share it with others. A family man, Captain Keith especially enjoys taking out families with children.
Does the thought of stone crab stir your appetite? From October to May, Captain Keith places hundreds of stone crab traps out in the gulf. When harvesting crab, he uses an electric puller to reel in the traps. While he likely will not have the puller on your fishing charter, Captain Keith is willing to 'horse in' a few traps by hand upon request during your voyage. Follow Captain Keith on Facebook for real time updates and new trip pictures!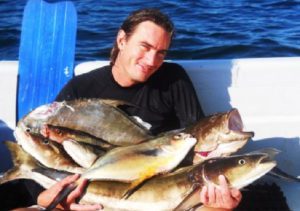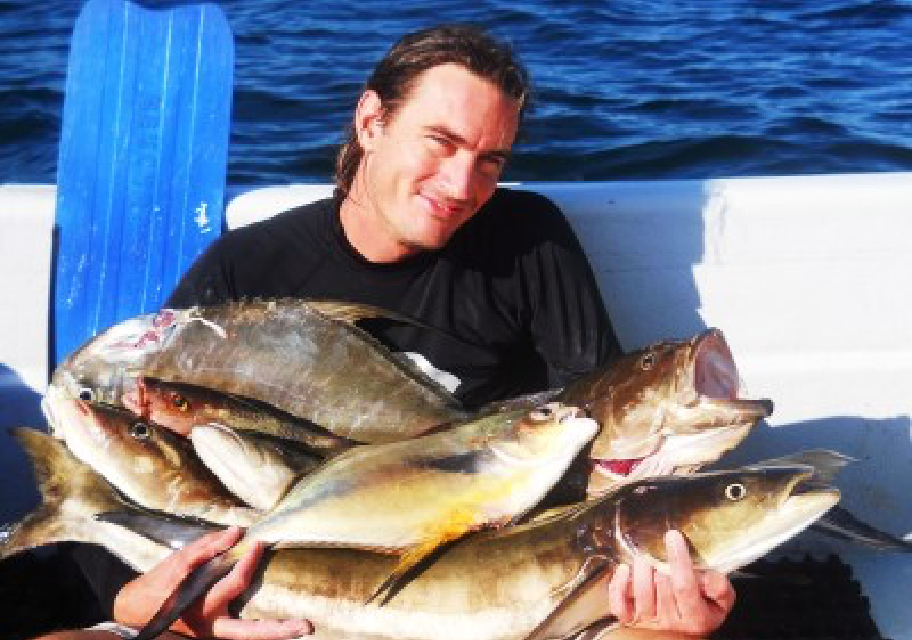 What to Expect on Our Fishing Charter
Here's what you can expect with Seafood Charters. We have acquired the necessary licenses for your safety. In addition, we provide live bait and the fishing gear necessary for a successful day fishing. A day out on the water can be exhausting, which is why we provide bottled water and ice to help keep you cool and hydrated.
Though we cover the necessities, your group can bring along the following suggested items to make your trip more enjoyable. Sunscreen, hats, and long-sleeved shirts, and polarized sunglasses are recommended to help protect you from the elements. Those with children may want to pack extra beverages or snacks. If your group plans on swimming or snorkeling, towels will be useful. Finally, you'll want to bring a camera to document memories.
Those looking to secure a fresh, seafood dinner should load an empty cooler into their car. Captain Keith will filet your fish at the end of the day, and provide ice for the cooler.
Our fishing charters meet at the south tip of the island or near Holmes Beach where SR 64 Manatee Avenue meets the island.