Blackfin Tuna Fishing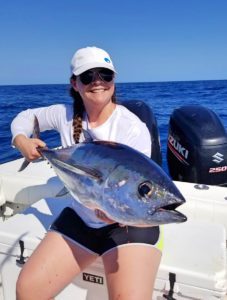 Seeking a great adventure on the water? Eager to experience blackfin tuna fishing? You won't regret booking with Captain Keith. Our service areas include Anna Maria Island, Holmes Beach, Longboat Key and Sarasota. You'll be telling your friends about your enjoyable experience and how much you learned, not only about fishing in the ocean, but also how to clean and fillet your catch. You will leave with your fish bagged in ice, ready to take home and prepare in the manner you desire.
A fishing charter trip with Captain Keith is always a great experience. A family man, and a US Coast Guard-licensed mariner, Captain Keith considers your superior experience of primary importance. Seafood Charters knows the topography of the ocean, so your group of family or friends will be taken to the best areas where the fish species you seek are known to congregate.  Captain Keith is eager to share his much valuable knowledge with those who book his fishing charters.
Call us at (941) 224-3320 to book a fishing charter or to learn more.
FUN AND INTERESTING FACTS ABOUT BLACKFIN TUNA
Smallest of the tuna family, blackfin can measure up to 40 inches long. They can weigh up to 46 pounds, but the usual catch is in the range of 10 to 25 pounds. They are stealthy and fast, swimming up to 46 mph. These athletic fish can maintain that speed when out of water jumping through the air for food. They are always on the move. Blackfin have football-shaped, firm, and scaly bodies. Their bellies are silver and they have a black stripe across the back and a gold band across their sides. No teeth are contained inside their tilted mouth.
The blackfin tuna's scientific name is Thunnus atlanticus. It is a part of the Scombridae family, which includes tuna and mackerel. They range from the western Atlantic and Gulf of Mexico to as far north as Massachusetts and as far south as Brazil. They prefer clean, warmer waters above 70 degrees, so they migrate south in the winter.
Blackfin tuna can live up to 5 years. These fish mate after they reach 2 years of age (3 months is standard mating time for some of their predators), and they breed from April to November. Larger blackfin can be found deeper in the water, while smaller fish frequent shallow water. They are not too picky about their diet and eat most fish, even flying fish. Squid, shrimp, and crabs are also on their menu.
This species travels in schools for protection and better coverage for cornering prey. They are sometimes seen traveling with another species called skipjack tuna (Katsuwonus pelamis). Predators of young blackfin include seabirds, mahi, skipjack tuna, and adults of their own species. When mature, they are at risk from blue marlin (which are almost twice as fast as blackfin), sharks, dolphin fish, and seabirds.
Catching a blackfin tuna is a notable experience. Never caught one before? Call Seafood Charters today to booking a fishing charter and you may get lucky and see some blackfin tuna! Captain Keith will guide you the whole way. He will let you know the regulations and limits governing fishing for this species. While we don't offer charters to target blackfin tuna specifically, we do sometimes see and catch blackfin tuna while we are targeting all the other fish in the sea. 
BLACKFIN TUNA FISHING SEASON
You can plan a fishing charter experience almost any time of year in Florida and potentially catch some blackfin tuna. The population is stable, so there are few restrictions on fishing for blackfin. However, Florida state regulation limits 2 fish per person or 10 fish per vessel, whichever is greater. Blackfin bite best about 30 minutes before sunrise, during the first three hours following sunrise, and the last three hours of daylight, until about an hour after dark. An early or late day trip is likely to bring the best results. Captain Keith's knowledge and experience will lead you to proven spots at the right time of day, to make certain you have the best possible chance of catching a variety of fish during your trip.
THE ADVENTURE OF FISHING FOR A BLACKFIN TUNA FISH
Don't sell this fish short. Blackfin are highly intelligent, with great eyesight. They will stalk small prey and wait for larger prey to come around to eat the small prey, then the blackfin will eat the larger prey. The best bait is always fresh, live sardines, herring, goggle eye, or pilchard. A good strategy is
to throw live bait without a hook, wait for the blackfin to gather, then throw in baited hooks.
Artificial lures or feathers are best for smaller blackfin tuna. Darker colored hooks -black or purple seem best. Large and heavy leads should be used in deep water. Lures and jigs or chunks of dead fish will not result in a catch of larger fish of this species. Patience is required to wait for these fish, but they are aggressive feeders, so they are not difficult to hook.
When should you reel them in? Immediately and quickly to keep predators from stealing your catch. These fish are extraordinarily strong, powerful, and fast, so they may give you a fight. The difficulty of reeling in this fish is rated as high, but Seafood Charters will provide everything you need. Blackfins may not be the largest tuna species, or the most popular, but they are easy to find, simple to hook, and challenging and fun to reel in. Fishing for blackfin tuna is a great experience, second only to cooking the catch.
BEST WAYS TO COOK BLACKFIN TUNA
Remember, Captain Keith will demonstrate how to clean and fillet your fish and he will store it on ice for your trip home. The shelf-life following catch is two days for raw and one week at most if cooked and safely stored. If you will not be cooking your fish the day you catch it, an ideal storage method for maintaining optimal freshness is to keep it in a vacuum sealed bag. Blackfin tuna are high in potassium, average on protein, have no carbs, and are low in mercury, so they are a good addition to a healthy diet.
Enjoy blackfin tuna:
As sushi, seared on wontons, with soy sauce and wasabi
Smoked for fish dip
Grilled and seasoned with sesame seed oil and fresh garlic
Pan seared with soy sauce, lime juice, and wasabi
Blackened with onion powder, red pepper, and black pepper
Baked with lemon zest or juice and garlic
Best complimentary sides/flavors are:
Avocado sauce
Mango
Pineapple
Rice
Fried green beans
Pasta salad
Roasted lemon potatoes
Baked sweet potatoes
Stuffed peppers
Veggie kabobs
Mushrooms
Carrots
Try these recipes for sushi rolls, whiskey cured blackfin tuna, or tuna dip. However you prepare it, your blackfin tuna catch should be a treat.
*
*
BOOK A CHARTER EARLY
Captain Keith and crew do their best to give you and your family and friends a superior fishing and learning experience. Sea life is fascinating, and Captain Keith is a great teacher. He will get you to the best locations for a successful catch where the target fish hang out. He will strive to enable you to go home with a catch.
Fishing charters fill up fast so contact Captain Keith's Seafood Charters today to book a fishing charter. Remember, Captain Keith runs a family friendly fishing charter operation and provides everything you need for your fishing trip. Bring sunscreen, sunglasses, snacks and drinks, and a camera. See our rates below.