Longboat Key Offshore Fishing Charter
Vacationers visiting Longboat Key can't get the full "island life" experience without going deep sea fishing. Florida native Captain Keith McGlade has been captaining fishing charters in the Gulf since 2010. A US Coast Guard-licensed mariner, Captain Keith can introduce your family, friends, or coworkers to the exciting (and tasty) world of Florida fishing.
Seafood Charters offers both offshore (deep sea) fishing and inshore fishing for groups of up to six people. Experience fishing success on Seafood Charters' Carolina Skiff, equipped with the latest GPS and fish-finding technology. Captain Keith also has extensive knowledge of the local underwater topography thanks to his many SCUBA and free diving excursions.
​
Our fishing charter makes the perfect day-long excursion for vacationers as well as locals. Imagine enjoying your fresh caught seafood at home after a long day fishing. Want to learn more about the ecosystem of the Florida gulf in this hands-on educational experience? Your group will gain knowledge about the local waterways and local fish species on your charter.
Seafood Charters offers varying lengths of trips for up to 6 guests. Have children? You choose exactly how long you stay out on the water. Voyages are offered in 4, 6 and 8-hour increments. All charters leave the dock in the early morning hours. If you're up for an all-day experience and wish to experience a colorful Florida sunset on the water, book a double. Have a certain catch in mind? Let Seafood Charters know the type of fish you want to catch and we'll recommend a charter suited to your goals.
Seafood Charters is equipped with all the necessary permits and licenses for your safety. Don't have fishing gear of your own? Don't worry: we provide all safety gear and fishing equipment. We'll meet you at the dock!
Relying on beginner's luck? Sounds like a plan! We take groups of seasoned and first-time fishers alike. If this is your first time on a charter boat, we will teach you about the gear you'll be using and how to cast your line.
If your group includes beginners and veterans, booking with Seafood Charters ensures a rewarding and fun experience for all. So… let's go fishing. Bring your family, friends, or co-workers along for a day of fun in the Gulf.
Longboat Key: Then and Now
Longboat Key gained prominence relatively recently as a beautiful Florida community and vacation spot. It wasn't until 1895, when a passage was dug connecting Sarasota Bay to Tampa Bay, that steamships and paddle boats could access the island.
In the early 1900s, Longboat Key was a farming community that produced fruits and tomatoes primarily. In 1912, The Sarasota Times read: "From a lonely Key, [Longboat Key] is now a center of trucking and fruit growing."
Just 9 years later, Longboat Key's farms were devastated by a hurricane. After that point, a bridge was built between the key and St. Armands – this was the first road that led to Longboat Key. From this point forward, Longboat Key began to grow into the locale we know today – a tranquil spot with beautiful beaches, just minutes from downtown Sarasota.
In World War II, Longboat Key was the home of a bombing range. It was used by B-62 planes in 1942 and P-40 and P-51 planes from 1943 to 1945.
When the town was incorporated in 1955, it changed its name from Longbeach to Longboat Key. The key is just under 20 minutes from Anna Maria Island, where Seafood Charters waits to take you on a deep sea fishing adventure!
Offshore Fishing vs. Inshore Fishing

Offshore Charter
Captain Keith offers an extensive knowledge about deep sea fishing and the underwater landscape to provide guests with a great offshore charter experience. Seafood Charters has all federal permits needed for deep sea fishing in the Gulf of Mexico, and years of experience with deep sea fishing and SCUBA diving near every offshore ledge and reef in the area. We can provide you and your group with the best offshore fishing experience by taking you to the best locations for fishings, on an adventure unlike any other. Be prepared to handle big fish, weather and waves as we brave the deep sea in search for an amazing catch.
Seafood Charters' offshore fishing trips travel into international waters, beginning 9 miles off shore. Here in these deep waters, you'll find a range of larger fish including grouper, snapper, hogfish, kingfish, cobia, and Spanish mackerel.
Read more about the species of fish you might catch offshore here.

Inshore Charter
Inshore charters stay in shallower water near the shore and within sight of land. Inshore fishing is a great option for families, especially with smaller children, as it requires less travel time and less gear. Although inshore charters don't venture out into the deep, international waters, there's still plenty of world-class back-water fishing to do inshore. Miles of natural mangrove shorelines are the preferred home of snook, redfish, trout, flounder, and numerous other species.
Seafood Charters' inshore fishing travels within the system of islands protected by land. Instead of moving into open waters, we stay within 3 miles of land in warm water which is ideal for swimming! Just remember to bring towels!
Read more about the species of fish you might catch inshore here.
MEET Captain Keith
Our amazing Captain Keith McGlade grew up in coastal Florida, and spent his childhood fishing in the waters and developing an expertise for fishing that he now shares with fishing charter groups.
As a U.S Coast Guard-licensed mariner, Captain Keith is well-experienced in fishing for all types of fish, both inshore and offshore. When he's not fishing, Captain Keith enjoys SCUBA and free diving, and sharing his passion for his work with others. A family man, Captain Keith especially enjoys taking out families with children.
Does the thought of stone crab stir your appetite? From October to May, Captain Keith places hundreds of stone crab traps out in the gulf. When harvesting crab, he uses an electric puller to reel in the traps. While he likely will not have the puller on your fishing charter, Captain Keith is willing to 'horse in' a few traps by hand upon request during your voyage. Follow Captain Keith on Facebook for real time updates and new trip pictures!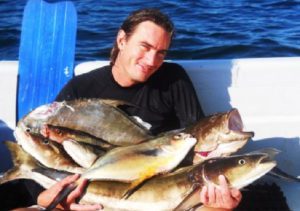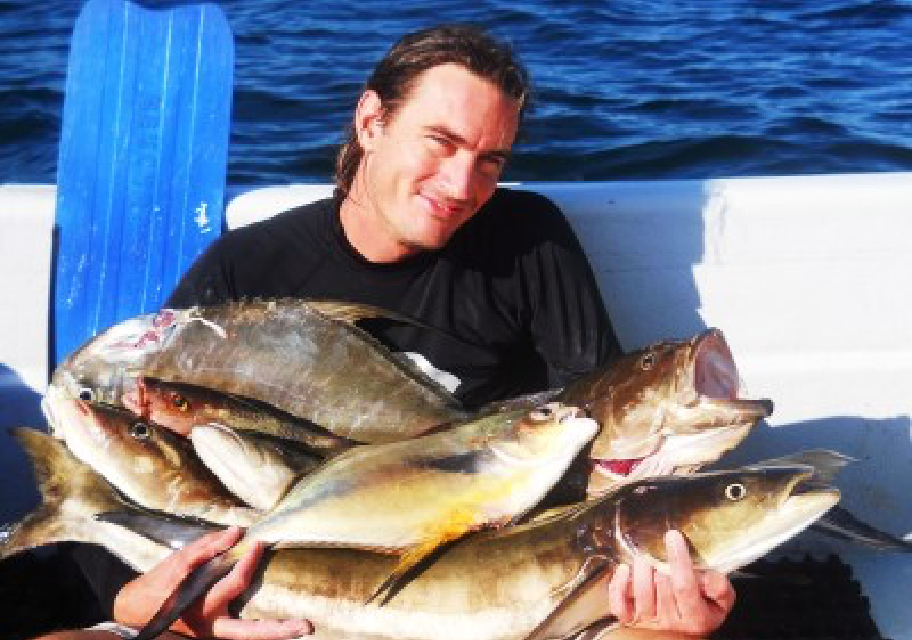 What to Expect on Our Fishing Charter
When planning a fishing charter with Seafood Charters, here are a few things to expect in order to prepare yourself and your family. Seafood Charters provides all live bait and fishing gear necessary for a successful day of fishing. We also provide water and ice to keep you cool and hydrated, and have all of the necessary licenses for your safety.
To make your trip more enjoyable, you may choose to bring some of the following items along with your group: sunscreen, hats, long-sleeved shirts, and polarized glasses. Groups with children may want to pack extra beverages and snacks, and don't forget towels if you are also planning on swimming or snorkeling.  Finally, you'll want to bring a camera to document memories.
Those looking to secure a fresh, seafood dinner should load an empty cooler into their car. Captain Keith will filet your fish at the end of the day, and provide ice for the cooler.
Our fishing charters meet at the south tip of the island or near Holmes Beach where SR 64 Manatee Avenue meets the island.